Our Athlete Programme in pune includes a wide variety of test and performance training designed keeping in mind the requirements of each individual sport by our experts. At Krumur Healthcare we focus on traditional physiotherapy, diet and nutrition, performance training, sport specific testing and sports medicine.
---
Performance Training & Assessment Programs:
Krumur Healthcare closely works with a lot of sports academies on a national as well as state and district teams. We encourage athletes with planned programs that help them unlock their true sport potential. Our programs support various organizations such as the Indian Armed Force, Krida Prabodhini, Khelo India Players, Shooting Academies, Cricket Academies, Football Academies and Swimming Academies etc.
Performance Training at Krumur Healthcare for sports such as:
Swimming | Shooting | Cricket | Football | Shot Put | Boxing | Athletics |Mixed Martial Arts | Archery | Lawn Tennis | Table Tennis | Billiards | Chess | Sprinting | Basketball | Weight Lifting | Triathlon | Cycling | Khabadi | Badminton | Gymnastics | Taekwondo | Other Sports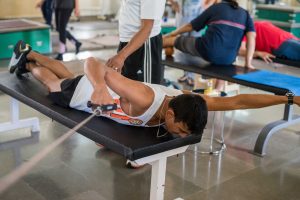 How We Help?
Our athlete program includes a wide variety of protocols that are specific to the sport requirements and here is why your academy needs us:
Team of professionals to support the athletes and academy with training protocol.
Expertise in sports medicine & physical rehabilitation for all athletes at your academy at our facility during injuries or other illness.
Well planned training programs on field and at our facility.
Yearly assessments and checkups for all athletes at your academy.
Helps coaches with talent identification process with international standards.
Assisting coaches with physical training and care treatment for athletes.