Spine Problems/ Injury Rehabilitation
Nowadays due to our busy routine and long hours of working at the office or home, it is very common to develop back pain, shoulder or joint pain, knee pain, neck pain, etc. These discomforts drastically affect our potential and further worsen our physical conditions which also force us to other health problems such as stress, mental and physical illness, anxiety, postural imbalances, etc. As an expert in injury rehabilitation care services in pune, we ensure well being and fast recovery for all our patients.
Why is taking care of your spine important?
Our spine or the backbone is the most important series of segmented bones that allow the central nervous system to keep the lower body in control with the brain of any vertebrate. Through this connection, we can perform all psychomotor functions such as walking, running, swimming etc. Due to lack of proper exercise, long hours of sitting or standing, improper sleeping habits impact the spine drastically and furthers conditions such as postural imbalances and other musculoskeletal problems.
We offer treatment & rehabilitation care for….
Sciatica | Spondylitis | Back Pain | Lower Back Pain | Knee Pain | Neck Pain | Scoliosis | Disk Bulge | Osteoporosis | Arthritis | Kyphosis | Fibromyalgia | Lumbar Spinal Canal Stenosis | Coccydynia | Pelvic Pain | Cervical Spine Problems | Slipped Disc | Spinal Arthritis | Piriformis Syndrome
Know More
---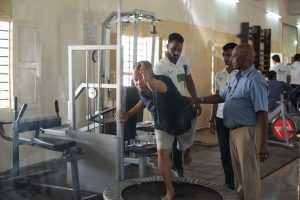 Cardiovascular Progressive Treatment
What are the causes of cardiovascular problems?
Cardiovascular health conditions commonly occur due to unhealthy habits such as smoking, lack of exercise, obesity, high blood cholesterol, poor diet, and excessive intake of alcohol. Due to which the blood pressure rises and leads to several heart conditions.
How our professionals can help you?
Our expert doctors and physiotherapists have treated 2500+ patients at our facility and most of the patients did have cardiovascular problems. We follow a very light customized training and exercise to help patients with the recovery of their discomfort by reducing the strain and stress also by keeping the blood pressure in check.
We offer treatment & rehabilitation care for….
Heart Stroke | Heart Failure | Hypertensive Heart Disease| Rheumatic Heart Problems| Cardiomyopathy | Abnormal Heart Rhythms | Congenital Heart Disease | Aortic Aneurysms | High Blood Pressure | Peripheral Artery Disease | Thromboembolic Disease | Venous Thrombosis.
---
Neurological Rehabilitation Care
What is a Neurological disorder?
A neurological disorder is a type of disease that affects the brain, spinal cord, and central nervous system. Neurological cases can be detected easily as it directly impacts the voluntary functions of the body. There are 500+ diseases known that impact a patient's nervous system.
Treatment at Krumur Healthcare
Patients with neurological disorders are supported and treated with personalized attention from our experts. We identify the cause and support the patient with needful physical therapy, speech therapy, and stress management therapy to ensure overall development and well-being. Also as a part of the treatment, we consider it very important to educate the family members on how they can help their loved ones in a scientific and medically approved manner.
We offer treatment & rehabilitation care for….
Parkinson's | Epilepsy | Alzheimer's disease| Vertigo | Restless Leg Syndrome | Co-ordination Disorder | Traumatic Brain Injury | Brain Stroke | Spinal Cord Injury | Whiplash Injury | Scoliosis | Multiple Sclerosis | Muscular Dystrophy
---